I've been a customer of AWeber for as long as I can remember, and I remember wanting to bring over one of my lists and discovered that AWeber required not one, but TWO opt-in's from each and every subscriber. This was very frustrating to me and what I thought was a definite pain in the butt for my subscribers and something, I felt, they should not have to do.
But now AWeber has decided to back off and make it easy to import your list without requiring your subscribers  to opt-in again. AWeber is a great platform & hopefully this will encourage more people to migrate over. Sign up for AWeber here. 
Step By Step Instructions:
1. First, hover over the "Subscribers" tab and click "Add Subscribers".

2. Click the "Import Subscribers" button.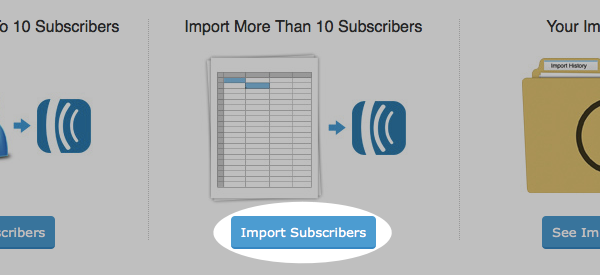 3. Complete the process of importing your subscribers. At the final step, "Opt-In Message", select the option "No, do not ask my subscribers to opt-in to my list again". Then, click the "Finish Import" button.

That's it!  Now, your imported subscribers will be added to your list without receiving a confirmation.